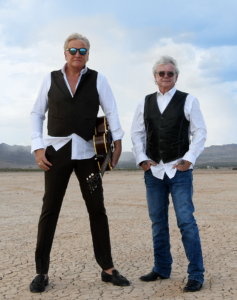 This morning's winner of the More FM Morning Mindbender won a pair of tickets to see Air Supply at the Grande Exposition Hall at Silver Legacy on Saturday, August 13th.
The Australian duo, Graham Russell and lead vocalist Russell Hitchcock, got their start in 1975, and scored huge hits since with "Lost in Love," "All Out of Love," "The One That You Love," "Sweet Dreams" and "Making Love Out Of Nothing At All."
Tickets on-sale now at Ticketmaster.com and you can win a pair all this week with Morning Mindbender!
Here's today's question and answer.
Question:  21% of people have tried to make themselves smell better by rubbing this on themselves. What is it?
Answer:  Dryer sheets
Winner:  Cindy Brewer of Reno